An Interview with: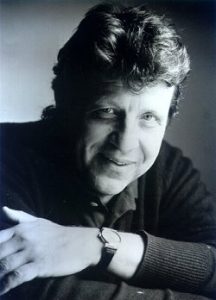 Barry Primus
By Harry Governick
Artistic Director, TheatrGROUP
September 3, 2001
From The Brotherhood (1968) to Life as a House (2001), on TV and on The Big Screen, Barry Primus has starred in more than 60 films, working with Martin Scorsese, Sydney Pollack, Mark Rydell, Paul Mazursky and Martin Ritt among others. Titles include Boxcar Bertha, The Rose, New York New York, Heartland, Absence of Malice, The River, Guilty By Suspicion, and Night and the City. Television audiences have seen him as a series regular playing romantic lead "Dory McKenna" to Sharon Gless' "Christine Cagney" on the hit show Cagney and Lacey, as well as starring in such hits as The Equalizer, The X-Files, The Practice, L.A. Law, Picket Fences, Law and Order, 21 Jump Street, Gold Coast and numerous others.
His stage credits have distinguished him on and off Broadway, working with Elia Kazan, Arthur Miller and Jose Quintero among others.
But the accomplishments of this creative dynamo extend far beyond his impressive artistic talents as an actor. Barry Primus is also a writer. And a director. And a producer. And a casting director. And a wonderful human being. His generosity of spirit is legendary, his sense of humor disarmingly subtle.
He is married to Julie Arenal, world renowned choreographer and his first love since his college days. They live in the Hollywood Hills with another beautiful spirit, Raphaela Rose, their daughter.
The Essence of Barry Primus
This story illustrates the essence of Barry Primus as I know him. In 1985 Barry's Los Angeles house burned down. It burned to the ground. Everything was lost. Valuable memorabilia from both his private life and career, and Julie's private life and career. Family treasures. Everything. And it happened while he and Julie were raveling from New York to Hawaii for a vacation.
I had been in the house earlier that day. I received a phone call from Barry's frantic neighbor that the house was on fire. When I arrived there about half an hour later, the house was gone.
I returned home to try to locate Barry to tell him the sad news. I had no idea which airline he was using, or where he might be. So I called every major airline with flights from New York to Hawaii and explained to the Ticket Agents that I had an emergency regarding one of their passengers. Finally, I located the flight, which was on the ground at Chicago's O'Hare airport.
Contacting the airport security, I was finally able to actually get Barry on the phone. After I told him the news, he asked, "Everything is gone? How did you find me?" Then he asked me to meet him the next morning at Los Angeles International airport to take him and Julie to a hotel.
I was at the airport at about six in the morning. I was extremely anxious, and very sad for my friend's loss. My stomach was queasy anticipating Barry and Julie's grief. Finally, his plane arrived, and he and Julie stepped into view. Barry walked up to me, smiling from ear-to-ear, and said, "It shows you that you can't get too attached to material possessions."
The Interview
September, 2001
B: Do you have to pay for this call?
H: I don't have to, but I will.
B: Well then let me call you, all right?
H: No, no no no no. No. Thank you, though.
B: Okay. So, okay. Start talkin'.
H: Are there any questions you would prefer that I not ask?
B: No. Ask whatever you want.
H: Okay. Question one. What is talent?
B: Oh boy. You give me an impossible… what is talent?
H: Yes.
B: You know what that is. I don't know what that is. You mean talent for acting?
H: Yes.
B: Okay. Talent for acting… uh… talent for acting… Stanislavski described acting as, uh… are you taping this?
H: Yes.
B: Good. Stanislavski described acting as, I believe, 'real behavior under imaginary circumstances'. So, I think the talented actor is somebody who is susceptible, highly susceptible to suggestion. So if I yell 'Fire!' in a room, you know, the actor who, the person who most quickly responds in a full experiential way to my suggestion that there's fire in the room is the actor in that situation who has talent, who has the most talent. That's kind of a basis of what you need as an actor, but then, of course, there are very mysterious things, you know, presence, and people who are uniquely interesting. Michael Chekov always described people who we watch who have high vibration about them. You know? You turn around whenever they walk in a room because they somehow… they have this incredible vibration about them.
H: Do you find that to be true?
B: Of course. Isn't it true that we… what are those exercises Harry, that Michael Chekov used to do?
H: Psychological gesture?
B: No, the other one, where you reach out to heaven and you try to extend your reach… you know. Those exercises where you build, not a vibration, but it's like a relationship between people. What do you call that?
H: Communion?
B: No, it's like that, but Michael Chekov had a word for those exercises. It built a certain energy in the body.
H: Did you work with him?
B: No. I never worked with Michael Chekov. Though I loved all his use of the imagination. You know. I teach acting, and I have to very quickly assess the actors that I teach… whether to approach them more on their life experiences or more on their imagination. Certain actors are more deeply stirred through their imagination than they are through their experiences. In the end, we own our imagination, so that's personal too. You have to assess where the actor can be more easily touched. When I direct, that's really so. There are actors who have extraordinary emotional abilities that arrive only when they don't touch it, you know? They need to work almost in a neutral medium where that emotional stuff comes up. They don't want to go directly at it. And for those people it's very good to use imaginative images. When I had a chance to work with Bette Midler, you know, I coached on some films, she's so loaded as a person… she gets into things so fully that she's hesitant to do that in a direct way. It's almost as if she feels she's damaging herself. So the way that I found that she was most easily stirred was just a simple imaginative thing. Instead of saying, for instance, to an actor like that, 'Let's find something that you're personally angry about that person', you might say, 'That person has shit all over them.' Respond to that.
H: Sensorially create it on the other person?
B: Yeah. People like that work very quickly sensorially. It depends. An actor like that is so loaded. So emotionally loaded that you can work with them in a very simple way. She's very very gifted. Now, the sensory work is to try to get us to be like them. Stanislavski looked at all the great actors of the world and he tried to figure out what is it that they did that we can learn from. And what he realized is that at the height of when they were thrilling, when they were really thrilling… they seemed to be personally involved. And that personal involvement was on the experiential level, not on a 'head' level.